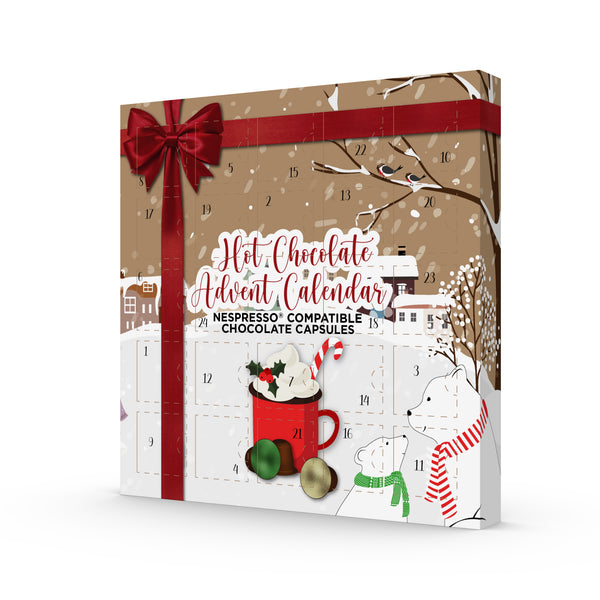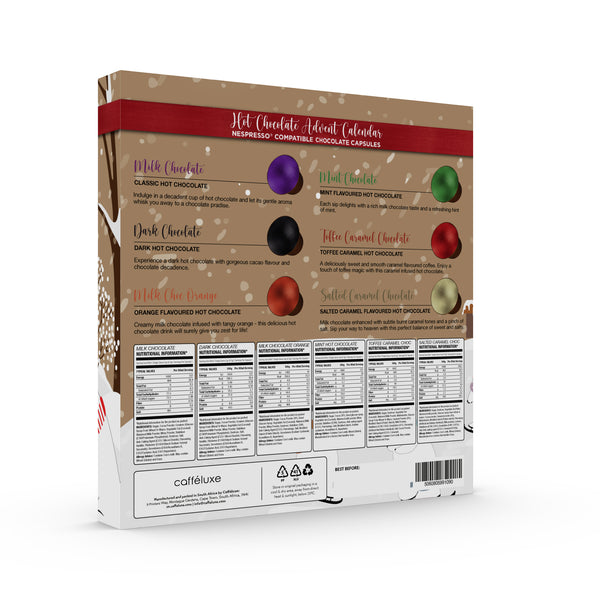 Caffeluxe Hot Chocolate Nespresso Advent Calendars 2021 - CL
This hot chocolate Nespresso Compatible Christmas Advent Capsule calendar is filled to the brim with exciting chocolate Nespresso Compatible Pods, each overflowing with delicious chocolate flavoured heaven! 'Tis the season!
Open a new window, every day, for 24 days and experience the following luxurious flavoured Nespresso capsules:
Indulge in a decadent cup of hot chocolate and let its gentle aroma whisk you away to a paradise
Experience a dark hot chocolate with the gorgeous cacao flavour and chocolate decadence 
Creamy milk chocolate infused with tangy orange - this delicious hot chocolate drink will surely give you the zest for life!
Each sip delights with a rich milk chocolate taste and a refreshingly hint of mint
A delicious sweet and smooth caramel flavour. Enjoy a touch of toffee magic with this caramel infused hot chocolate 
Milk chocolate enhanced with subtle hints of burnt caramel tones & a pinch of salt. Sip your way to heaven with this perfect balance of sweet & salty
A smooth Milky Hot Chocolate perfectly balanced and aromatic, bringing back all the comfort from days gone by